Are you a Sustainer? Discover our G.R.A.M. profile of the week!
You already know the different positions in Marketing, Sales and Digital from our previous articles. Now it's time to move on to the next step: finding the right company! Finding a job and company that suits your personality and ambitions is very important, but we know this can be a challenge. Before anything else, your first step should be getting to know yourself better. What are you exactly looking for in a job and in a company? At Generations Recruitment, we decided to help people with this and developed the G.R.A.M.! It will help you determine what type of employee you are and give you tips on finding the right fit for your next job. Each week we will put a different profile in the spotlight, so keep reading to find out more. In the past few weeks we already discussed the Achievers, the Challengers, the Harmonizers and the Emanicpators. Now it's time for the 5th profile: the Sustainer!
The what? The G.R.A.M.!
G.R.A.M. stands for Generations Recruitment Aspirational Model. It helps you find a job and an employer who shares your personal values and professional aspirations. By taking this free questionnaire, you will know which one of the 7 profiles is dominant and make informed decisions based on that! Possible outcomes are: Achiever, Challenger, Emancipator, Harmonizer, Sustainer, Committer and Trendsetter. Important to note here is that you are never 1 single profile but a collection of multiple profiles, your outcome merely tells you which profile is dominant at this moment in time!
It is not like the Big 5! It focusses on helping you to better understand how you function at work and what your added value is. Depending on your profile and personality traits, you will get personalised recommendations. These range from tips on better collaborating with coworkers to improving your performance at work. It will help you identify what you expect of your ideal employer in terms of values, structure, atmosphere and advantages.
Generations Recruitment aligns talent's personality at work with their employers' needs and values. Therefore, talents can increase their happiness at work while employers reduce turnover. They are both engaged sustainably and meaningfully!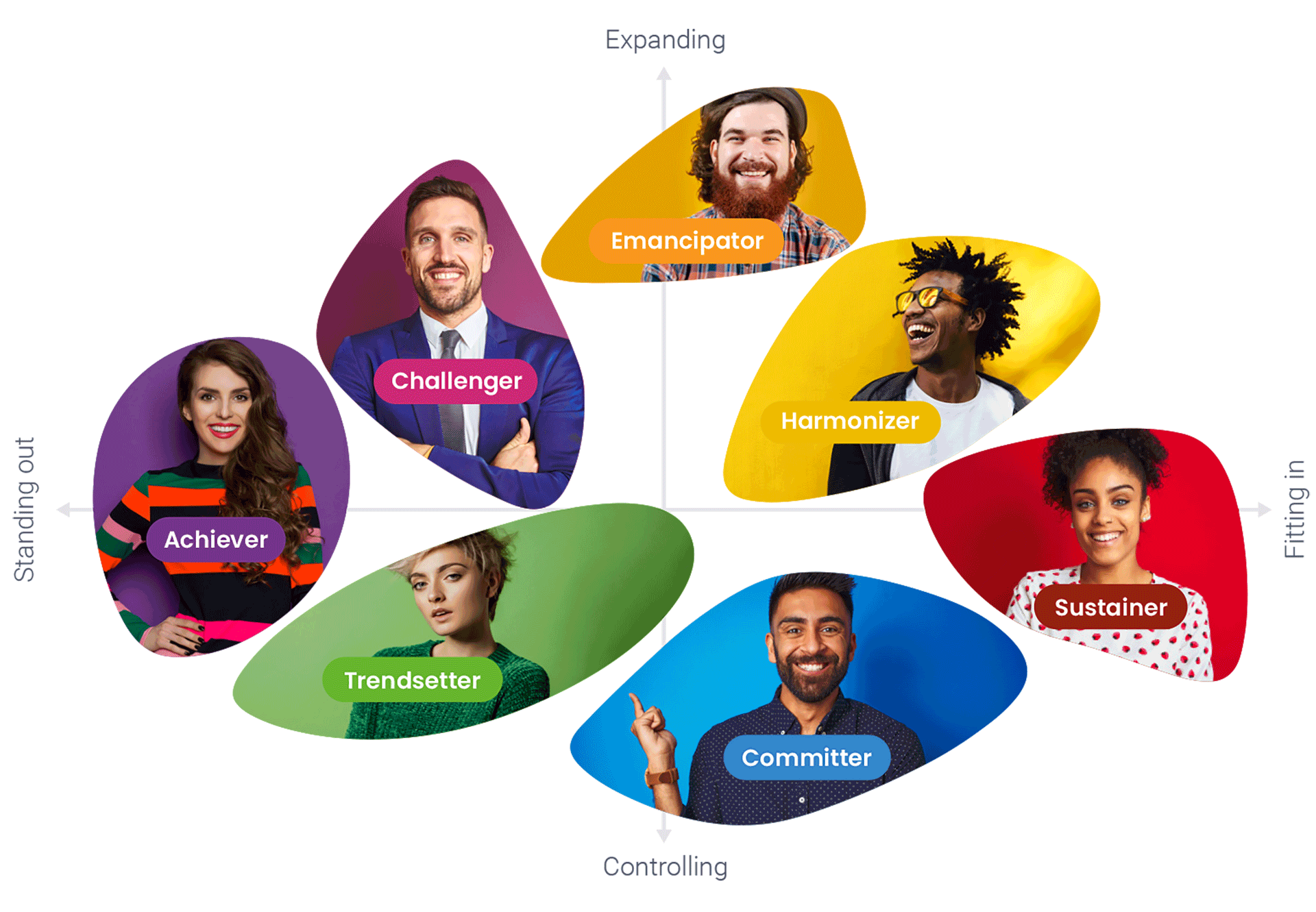 What is a Sustainer?
Sustainers are consensual and responsible people, who are looking for a purposeful employer aligned with their own values. They enjoy helping others and contributing to society. That is why they take social values into account before making any decision. They also have excellent leadership skills, and are able to create a good team spirit.
With their strong will to make change happen and their patience, they always focus on sustainable results. Furthermore, they are also used to keeping the balance between respecting the existing structure and taking risks by exploring new ideas at work. Thanks to these qualities, they are excelent long-term relationship builders and can create high customer loyalty. 
Discover our different useful tips for Sustainers by taking the G.R.A.M. yourself!
CLIENT TESTIMONIAL
"Yoni and Marc, in charge of the search, successfully carried out the recruitment of a Product Manager and a Key account Manager. Beside the understanding of our needs, they not only matched the competencies of the candidates with our expectations but also the fit in our "start-up" mindset and culture.
They have a deep respect of humans and really fight for you.
High Quality for a market competitive cost."