"Go-to-market" Strategic Marketer I Mobility Services
Industry
Consumer Services, Financial Services, Automotive
Our client is the Belgian's market leader in the mobility services. Being a joint venture between a leading Belgian mobility provider and a Global car manufacturer, our client pioneers the answers towards the disruptive new consumer & customer behaviors on how to approach mobility and vehicle ownerships (BtoC & BtoB). In this environment of leasing, credit, insurance, maintenance, and alternative mobility, customer centricity has never been that important!

To help shape the future of the mobility services, our client is looking for a "Go-to-market" Strategic Marketer" that will help with Go-to-Market strategy as well as the product's development or/and evolution to keep matching constantly the customer's evolution. As a strategic marketer, you are part of the "Marketing & Product" department of the Company and reporting into the Department Head.

Your Mission

Your mission will be two folds, one more strategic and the other, more of a project marketing leader.

First, you will analyze market developments, the competitive landscape and - above all - the needs of customers. For that you'll run regular market research studies both qualitative and quantitative to secure a thorough understanding of the market dynamics.
You'll examine the existing 'product and service' portfolio and look at possible new service designs or development when possible.
You'll continuously improve of the customer journey, through the adjustment of certain contact points and (marketing) processes.
You'll prioritize the developments according to the Customer's relevancy as much as the business ones and turn them into projects.

The second, you'll be partially responsible for the development of the Company's own brand managing always on campaigns as well as integrating the company' services into the customer journey, in owned and paid media, as well as via some of the group's brands. You'll analyze the digital customer journey (website/platforms) of the partner brands from the perspective of a financial services customer (or prospect) and make concrete recommendations.
These interactions between the Company' services and the brands are critical to the customer value proposition and provides the most rewarding insights.
On the communication side, you'll be the point of contact for your marketing colleagues in the Group brands and for their main creative agencies.
In order to promote the right product in the right place, and to the right target group, you'll draw up the briefings for the external agencies yourself or supplement the brand briefings and (co-)coordinate the execution.
You'll analyze and measure the results of each campaign and media integration: you collect the necessary data, make recommendations for the future, lead A/B tests, etc. and report to the Head of Department and the various Brand Marketing stakeholders.

Profil
Master's degree in a relevant field (marketing, communication, economics, business engineering...) with at least 5 years of working experience.
In-depth knowledge of 360° marketing and all owned, paid and earned media either inhouse or as a Consultant would be ideal.
First experience in:

CRM: being able to analyze target groups, customer data and do customer/data segmentation
Digital knowledge: SEM, Google Analytics, CPM and CPC ... are known to you
Knowledge of customer journey mapping and optimization

Experience in project management is required
Experience in Business Design Thinking or Service Design is a plus
Knowledge of the automotive or service BtoC is a plus, not a must
Thorough knowledge of Dutch, French & English is a must
Skills and personality:

A go-getter attitude
Research mentality and analytical skills
Autonomy, quick learning and dynamism
Creativity, innovative skills, long-term vision
Team spirit
Can handle complexity (project management with many stakeholders, multi-tasking, prioritising, etc.)
Accurate and good communication skills
Our offer
An appealing career opportunity in a market leader in their sector.
A frontline role with high visibility and where your successes will be highly depending on your ability to lead the other stakeholders in the Group and external agencies.
A competitive salary package and the possibility to evolve in the organisation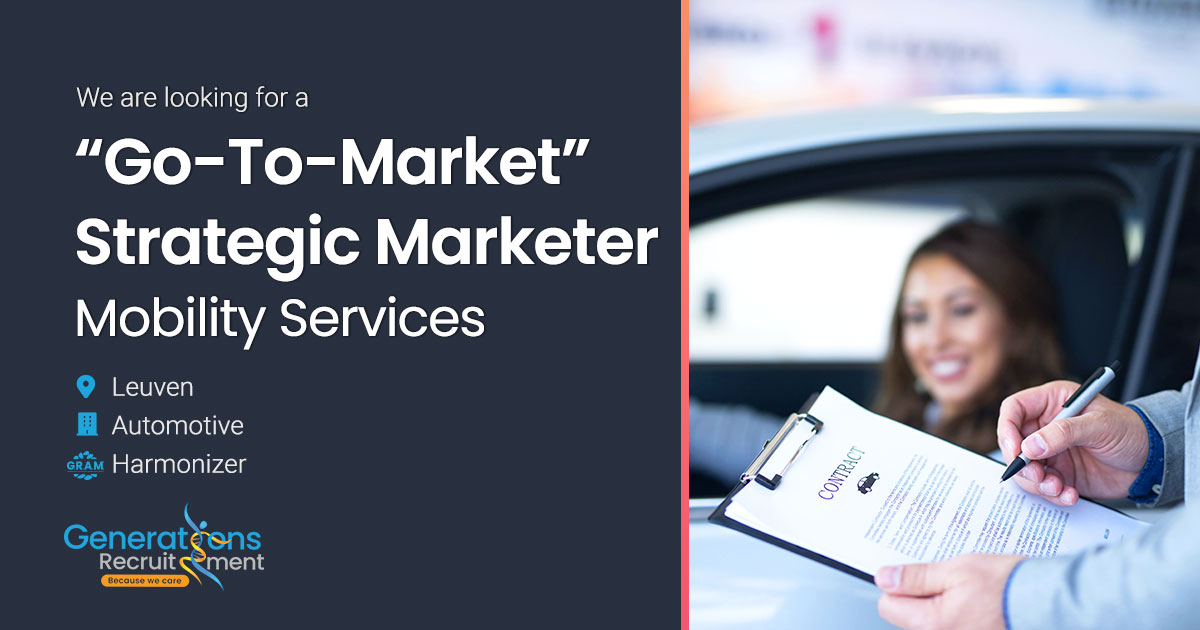 Yoni Szpiro
General Manager