Product Manager - Italian-speaking | Alternative Medicine
Industry
Health/Wellness/Fitness, Alternative Medicine, Consumer Goods
"Humanity will be saved through the flower." - Huvenol
Our client is an international leader in the field of natural therapies that brings together three strong and complementary brands.

In a booming business sector, the group has recorded annual growth of >20% in the last 15 years. This solid and steady evolution is the result of a unique development model based on the formulation of highly effective natural therapeutic products, on solid investments in scientific research and training of their customers, and on a complete control of the production chain. Their products are distributed in more than 25 countries in Europe, North America and Asia via their direct sales forces and local partners.

To keep sustaining their growth, they are urgently looking for an Italian-speaking Product Manager (M/F) for their offices located in in the Ath area.
Your challenge
The Product Manager is mainly involved in the design and follow-up of the operational plan to promote sales for a specific range of products, while ensuring its positioning on the market.
Your responsibilities
Your main tasks would be to:
Implement the brand development strategy while ensuring that the company's identity and codes are respected. Guarantee the coherence of the brand (range, segmentation, packaging, communication...)
Structure marketing projects and be the "engine" for them vis-à-vis other partners: managing the achievement of objectives by ensuring optimal coordination with the various departments (Graphic Designers, Sales, Regulatory, Production, Purchasing, Customer Service, etc.). To be the marketing contact point and to ensure the follow-up of the brand for the subsidiaries
Follow up new product launches and promotional campaigns. Undertake internal surveys and research, to propose possible improvements. Plan the adaptation and positioning of the brand's products according to the market segments and the analysis of the results
Contribute to the development and regular monitoring of sales forecasts for products and marketing tools. Propose and deploy the marketing tools necessary to achieve the objectives in compliance with the charter and integrating budgetary and regulatory constraints
Ensure competitive intelligence, collect and analyse data on markets and competition
Participate in the development of the sales pitch. Work on the visual and graphic identity of the brand and optimise brand communication
Support and animate the sales and product distribution network. Ensure the communication and presentation of product ranges and promotional campaigns to the networks concerned
Your profile
You have a degree in marketing or communication and a minimum of 3 years of experience in Product Management
You have a good command of French and Italian spelling and grammar - knowledge of English, Dutch and/or Spanish is a plus
You are familiar with the use of the following softwares: Microsoft Office Word, Excel, Powerpoint, Adobe Acrobat/pdf
Knowledge of graphic design and their design software (Adobe Suite) would be a plus
You have a perfect ease in written production, and have a spirit of synthesis
You are independent and proactive in the management of a project
You are creative, organized, meticulous, precise, dynamic, and have a good sense of humor
You are resistant to stress and meeting deadlines by having a sense of priorities
You are able to work in a team and adapt to change
An affinity with natural therapies would be appreciated

What's in it for you
The chance to work on qualitative products in a booming market, with evolving responsibilities
A competitive salary package and an inspiring environment to work in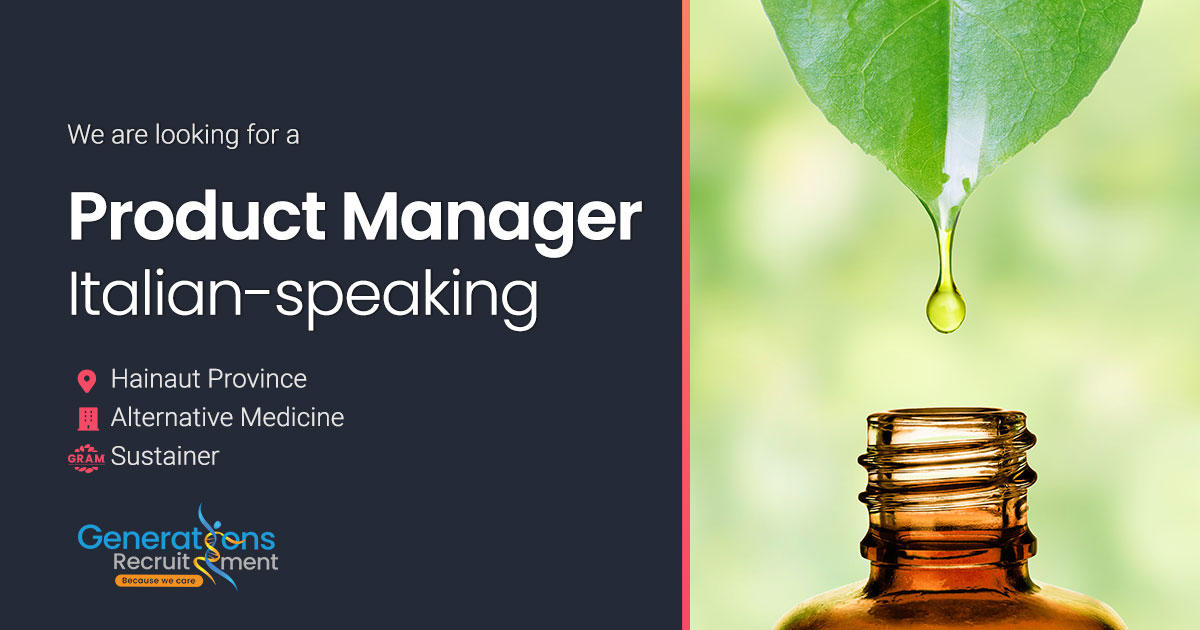 Hélène Bozet
Recruitment Consultant