Junior National Account Manager I FMCG - Food
Industry
FMCG, Food Production, Food & Beverages
Our client Dr. Oetker is ranking among the leading food manufacturers in Europe, with 16,000 employees worldwide in more than 40 countries. Inspired by their rich heritage, they are committed to their people, their consumers, the environment, and society. That's because bringing people together and creating a taste of home is at the heart of everything they do. From baking products to desserts, snacks to pizzas, they provide a wide range of food offerings to meet the tastes and needs of people around the world.

In Belgium the company is represented by highly motivated people looking to make a difference and continue to sparkle at Group level. The atmosphere is one of team spirit, entrepreneurship and getting things done, without forgetting to share the fun moments of life.
In the relentless pursuit of greater professionalism and more efficiency, the entity recently underwent an organisational change.
This led to the creation of a new role in the Sales team that we are now looking to fill:
Junior National Account Manager
Your Mission
As Junior National Account Manager, you are considered a key player in the sales' performances. Your goal is to develop and execute a customer strategy & business plan to realize the company's financial targets. The aim is to achieve the objectives in terms of net sales, profit and market share. The diversity of the products and categories makes your daily work very challenging because you need to understand each of your clients' needs and aspirations to sell them the best product package. This position gives you the opportunity to share your passion for products but also to advice your clients in the products' visibility.
Your responsibilities
You develop a customer strategy (short, medium and long term) and an account plan supervised by a National Account Manager;
You develop the daily business relationships with your own customers, achieving the objectives in sales, profitability and market share;
You ensure the implementation of the agreements with the customers while permanently monitoring the KPI's and take the necessary corrective actions to reach the objectives within the assigned budget (i.e. analysis of the achieved results vs plan, analysis of the efficiency of the various actions with customers, etc.);
You discuss internal data (selling in volumes/value) and market analysis carried out by TCM (Nielsen, GFK…) together with our Category Managers to prepare customer visits;
You'll secure an efficient administration and allocation of all budgets (folders, trade fairs, introductions, etc.) within the defined boundaries and within strictly defined frameworks;
You ensure on-time communication of the customer contracts, promotions and issues, with all internal and external parties, using all communication capabilities;
You are fully responsible for your set of clients.
Your profile
You have a strong drive to overcome obstacles and can find alternatives to achieve set goals;
You are enthusiastic, hands-on, analytical, open and you have great entrepreneurial and communication skills;
You are a strong negotiator, cost-conscious and have a strong commercial feeling;
You master at least French or Dutch, have a good knowledge of English and have a good command of our other dominant national language;
You have a first confirmed experience in either Field Sales, Category Management, Trade Marketing or Key Account Management, preferably in the FMCG or Consumer Goods sector.
What do we offer?
Dr. Oetker is an international and innovative FMCG group with strong brands and a real societal purpose. A great working environment that is highly supportive to people's development, through live coaching and some of the best trainings in the sector. The opportunity to access this newly created role while having a direct impact on the team and the business. This challenging and diverse position will set for you the basis of a solid career growth in Sales or Marketing according to your aspiration.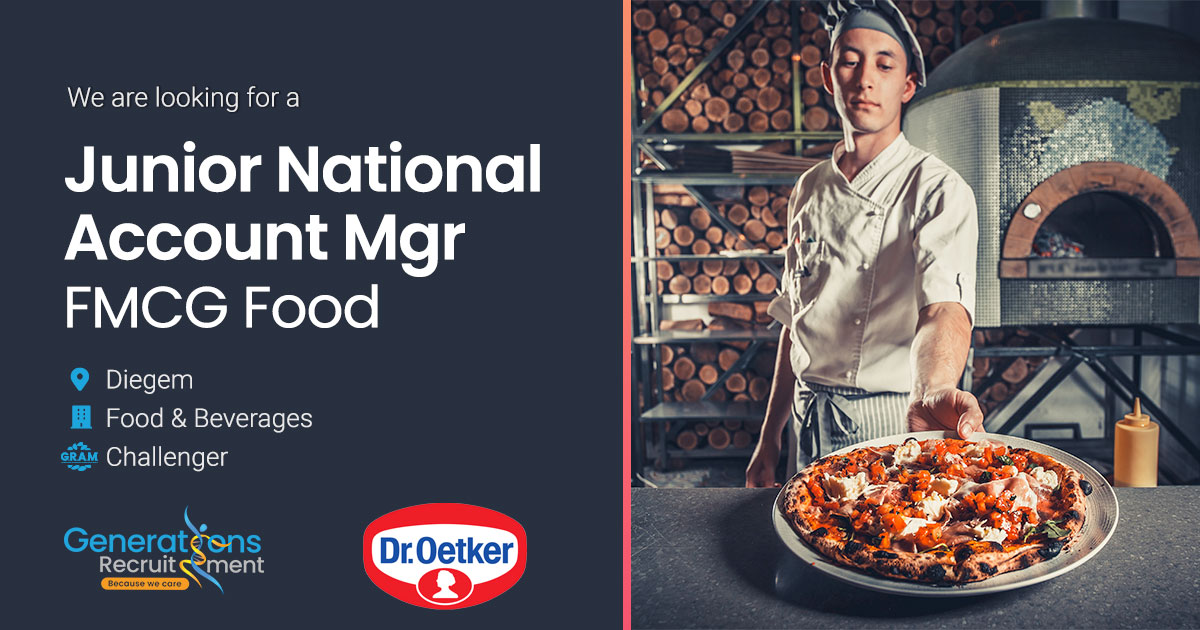 Polina Tarassov
Communication Officer