Digital 'T-Shape' Marketing Manager | Automotive Financial Services
Industry
Financial Services, Automotive, Digital Sales
Our client is the Belgian's market leader in the mobility services. Being a joint venture between a leading Belgian mobility provider and a Global car manufacturer, our client pioneers the answers towards the disruptive new consumer & customer behavors on how to approach mobility and vehicle ownerships (BtoC & BtoB). In this environment of leasing, credit, insurance, maintenance, and alternative mobility, customer centricity has never been that important!
Your Mission
To help shape the future of the mobility services, our client is looking for a
"Digital T-Shape Marketer"
that will help with the development of the Digital vision of the Company. This concretely means he/she will be responsible for the set-up of the Digital "owned Media" and the Digital Ecosystem (client portal, client apps, online sales platforms, digital showroom, …) that will be directly in interactions with Clients. As a
Digital marketer manager
, you are part of the "Marketing & Product" department of the Company and reporting into the Department Head.
Main tasks
Define the Digital Ecosystem necessary to achieve the business objectives of the organisation
Aligning every party to the final objective an develop an engaging leadership to drive the projects
Overseeing the planning, tracking, and deliverables of tech-centered projects (e.g. client portal, client apps, online sales platforms, digital showroom, …) that typically happen online.
Defining the right process and workflows per project
Creating business case to proof viability of digital concept
Reviewing constantly Customer experience (on boarding, check out, online contracting) and adapt (or suggest new) features to constantly improve the total experience and leverage conversion
The Digital Manager is also responsible for delivering digital products / services against defined business goals (e.g. leverage traffic, UX and conversion rates).
Organize and lead Digital meetings
Facilitate communications Manage stakeholder relationships with internal & external partners
Profil
Experience in the management of Digital projects & ecosystems
Capable of maintaining strong relationships in a multi-layer environment Brands/ Global/ Local
Strong organizational and multi-tasking skills
Excellent analytical and problem-solving abilities.
Strong customer & service orientation
Experience in project management is required
Strong IT business analysis background to translate business needs into technical solutions
Experience in Business Design Thinking or Service Design is a plus
Knowledge of the automotive or service BtoC is a plus, not a must
Thorough knowledge of Dutch, French & English is a must
Skills and personality:

A go-getter attitude
Research mentality and analytical skills
Autonomy, quick learning and dynamism
Creativity, innovative skills, long-term vision
Team spirit
Can handle complexity (project management with many stakeholders, multi-tasking, prioritising, etc.)
Accurate and good communication skills
Our offer
An appealing career opportunity in a market leader in their sector.
A frontline role with high visibility and where your successes will be highly depending on your ability to lead the other stakeholders in the Group and external agencies.
A competitive salary package and the possibility to evolve in the organisation
Not what you expected? You're looking for a Sales or Marketing job? You would like to discuss with one of our recruiters? Book a call now!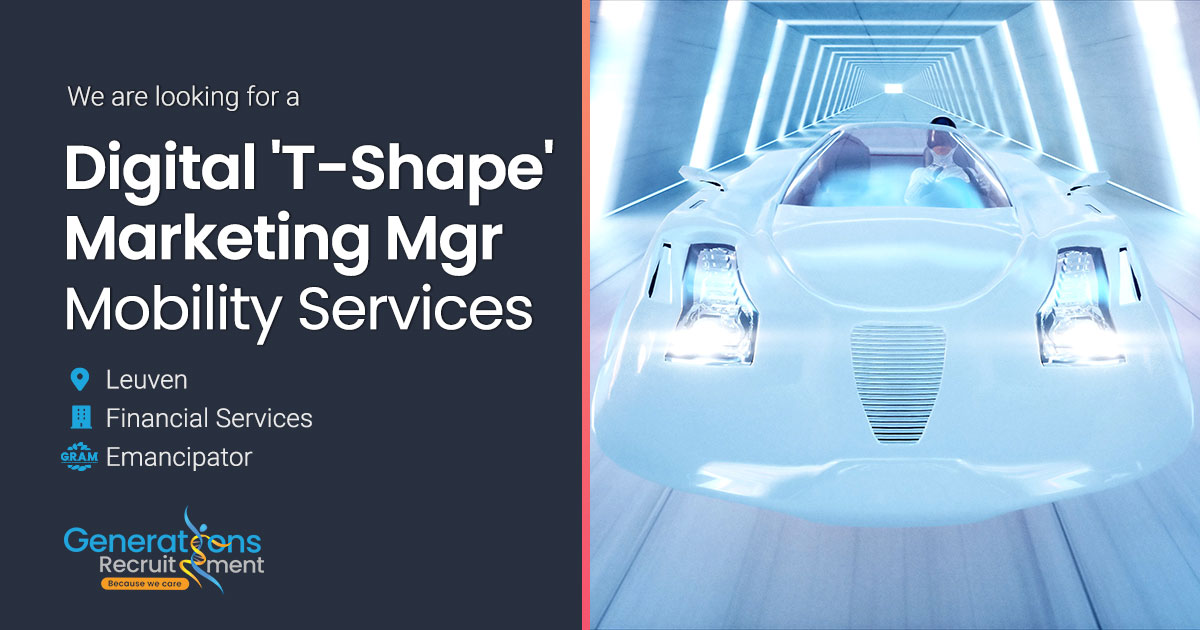 Yoni Szpiro
General Manager