Hair salon Development Partner | Sustainable hair products
Ready to have a positive impact on the world ?
Our client is a global leader in beauty products (makeup, skin care, fragrance and hair care), touching over half a billion consumers a year. Their diverse portfolio of over 25 brands is sold in over 150 countries. They have always been pioneers in sales and marketing. Nowadays, they keep showing their creativity, innovation and boldness in everything they do : in the products they develop of course, but also in their marketing and sales strategies.

With their sustainable haircare brand, their mission is to care for the world we live in, from the products they make to the ways in which they give back to society. They strive to set an example for environmental leadership and responsibility, not just in the world of beauty, but around the world.

To accompany the development of this brand in hair salons throughout Brussels and Wallonia, they are looking to hire a :
Salon development partner (M/F)
Your challenge
You would be developing the hair salons market by recruiting new salons to work with, and driving the salons' growth by acting as a real business partner for them (providing them with tailored development plans and coaching them on all aspects of the business).
You would be responsible for building strong relationships, both online and offline, with salon owners and staff to develop and grow their business, and to serve your salon partners from the heart.

As an ambassador who is passionate about the brand and its mission, you would share this passion with your salon partners.
Your responsibilities
More specifically, your responsibilities would revolve around the following two poles:
1. Recruit new salons:
Achieve the new business goals, by identifying target salons to convert, working in collaboration with the Brand Manager and following the salon criteria
For each potential new salon, develop a clear strategy, action plan and follow through process. Build trust and interest, lead negotiations and find the right fit to move forward.
Follow the new salon opening process, nurturing relationships with prospects and showcasing the brand's salon model and points of difference
Work with existing salons to build testimonials highlighting the unique brand model
Leverage digital and social media tools to understand your prospects, tailor your approach and create engagement with salons
Schedule prospecting effectively, prioritizing new business with strategic follow up, optimizing your call cycle
Display strong understanding of the Hair & Beauty Market and competitor analysis in order to speak with confidence about the industry and the brand's points of difference
Display strong organization skills as well as positive attitude and resilience
2. Drive the growth of the existing salons, working as a business partner:
Analyse the salon business, monitoring their benchmarks and financial results, evaluating business landscape, observing, and discussing this with the owner and the team
Based on this analysis, identify the goals, challenges, and needs for each salon in the portfolio, through consultative questioning
Define and drive a 12-month salon engagement program for every salon, that will support the growth of the salon and meet their specific needs, ensuring the plan is aligned with the sell-in target of each salon
Work as a business partner with the salon owners and teams: build long-lasting relationships with them, gaining their trust and working collaboratively with them, both online and offline
Effectively organize journey planning, prioritize workload and be able to build agendas prior to a meeting
During each visit, present the monthly launch and marketing plan, review inventory levels and recommend orders
Leverage digital and social media tools to grow the salon's visibility and business
Collaborate with office and education teams to effectively communicate brand messaging
Be the voice of the salons towards the office and education teams
Your profile
You have at least 3 years of experience in an entrepreneurial or commercial function, ideally in the Haircare salon sector
You have a sound knowledge of the hair industry and its various products and techniques
You can communicate fluently in both Dutch & French, with a good knowledge of English
You have strong negotiation & communication skills
You have high energy and drive, and are resilient
You have prior experience in prospecting new clients and opening doors
You are able to clearly identify issues, underlying causes and propose adequate,
customized solutions to help your clients thrive
You have great listening skills and a high emotional intelligence that allows you to connect with people
You can adapt to change and seek ways to achieve goals despite unforeseen problems (strong problem-solving skills)
You are results-oriented, and take action proactively to reach your goals
You can work with IT / MS Office tools and Social media
You feel aligned with the sustainability-linked brand values, and want to have a positive impact on your environment
What's in it for you ?
The chance to work for a global leader in prestige beauty, driven by innovation
A challenging and diverse position where you can have a real impact on the company's results, as well as on the success of your partner salons
The opportunity to grow, develop yourself and learn - a lot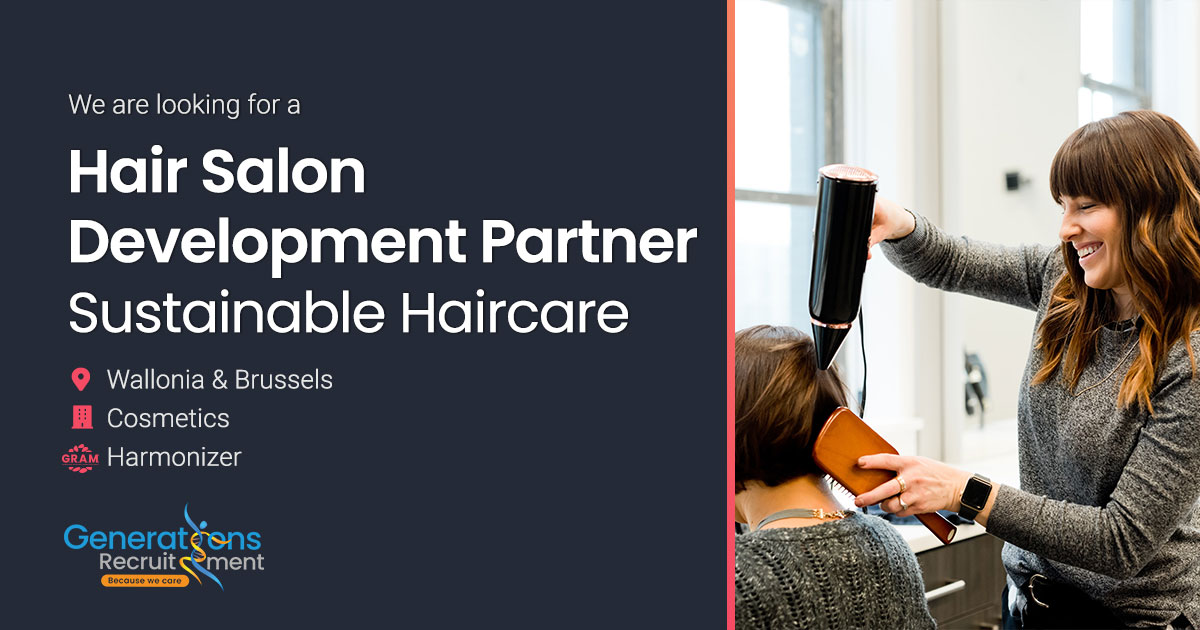 Hélène Bozet
Recruitment Consultant