Head of Customer Success I SaaS FinTech
Industry
Internet, Computer Software, Customer Success Director, Customer Success Manager
Since 1995, our client has grown organically and through regular acquisition to become one of the most important providers of multi-bank services for professional users. Grounding its roots in Brussels (45 steps away from Central Station) they have become by far the largest fintech company in Belgium. Our client is today recognised as "trusted market infrastructure" and a reliable and solid link between the corporate world, accountancy firms, banks, software suppliers and consumers. This success is mainly due to their unique entrepreneurial and informal culture in a very regulate environment. In that respect, they are leaving the autonomy and P&L responsibility to their different line of business. & Though sustain their place, they are continuously on the lookout to optimize their Customer's satisfaction and lifecycle. This is why they have undergone recently a new organizational set-up.

This one led the opportunity to recruit a "Head of Customer Success"
Your Mission
Reporting into the Chief Customer Officer, the mission will be quite broad as it'll implies to organize the development of a Cross-Divisional Customer's management strategies by cross-fertilization as well as retention. You'll lead a team of 6 Corporate Customer Success Representatives and set the vision for the department. Furthermore, you'll assess the customer's needs of each division and assess potential synergies that can be found to develop a corporate response to grow our customer base.
Main Tasks
Lead the Customer Success team, creating and executing a cohesive strategy including goals, performance, and key metrics to drive retention and expansion, Customer Lifecycle Management process, and tooling.
Manage a newly created team
Develop and manage client portfolios.
Sustain business growth and profitability by maximizing value.
Analyze customer data to improve customer experience. Hold product demonstrations for customers.
Improve onboarding processes.
Evaluate and improve tutorials and other communication infrastructure.
Mediate between clients and the organization.
Minimize customer churn.
Aid in product design and product development.
Foster cross-functional collaboration and culture within the team and with internal departments (Sales, Marketing, Support and Product).
Responsible for monthly reporting: reviews of renewal, expires and pro-active account analysis.
Your profile
Ideally a University or Bachelor Degree in Communications or Marketing. Any relevant experience in the area of Fintech or SaaS will be considered
At least 3 to 5 years as a team lead or a people manager with great leaderships qualities.
Highly organized and able to multi-task.
Self-driven and pro-active nature.
Excellent communication and interpersonal skills.
Bilingual English/French or English/Dutch.
High computer literacy and ability to learn new software.
Knowledge of customer success processes, organization and responsibilities.
Experience in document creation.
Patient and active listener.
Passion for service.
Working knowledge of toolsets such as Siebel, Jira, MS Dynamics CRM, SharePoint, Confluence and Service Now is considered an advantage
What's in it for you?
You will work for the first and leading Fintech of Belgium surrounded by experts.
You will set the pace to think & rethink the customers' lifetime value and assess/identify the future needs to stimulate the development of new features and solutions
You will have flexible hours and the possibility to work from home (2 days a week)
You will join a company that is not afraid to reinvent itself and leave the necessary space, autonomy and coaching to develop yourself in a fast growing Group.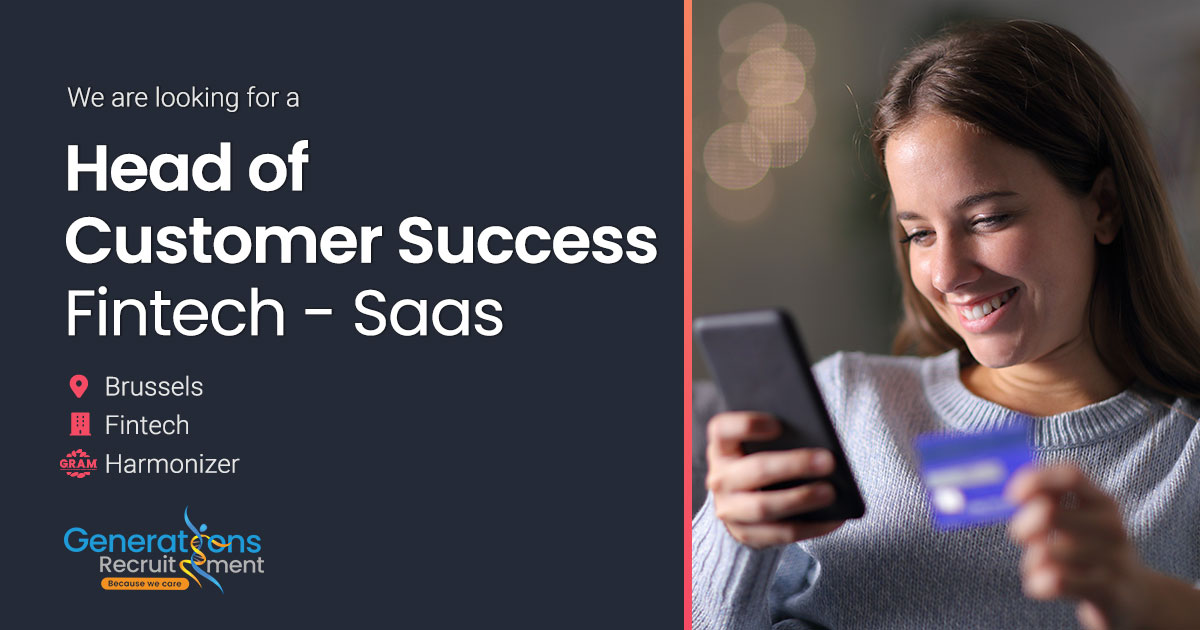 Yoni Szpiro
General Manager