Content Communications Officer Flanders I Real-Estate - Tourism
Our client is a French company, subsidiary of a real estate group with over 45 years of experience. They are specialized in the development of real estate projects (such as second and third homes, tourist residences, hotels, parking lots, etc.) on the French coasts. Foreseeing a huge development of their activities towards their Belgian based customers (mainly in the Northern part of the Country), they are growing their Marketing team with the recruitment of a:

"Content Communications Officer Flanders"

Your Mission

Creative jack-of-all-trades with an interest in real estate and/or tourism, you'll be required to further enlarge the reach of the company's offers towards the Flemish market while developing the creation and broadcasting of online material (such as videos, blogs, and social media posts) that will engage the target audiences towards the possibilities of acquiring Real-estate goods on the French coasts. To this end, you'll report into a Marketing Manager that will secure the coherence of the campaigns across the whole country.

Your responsibilities
You will write engaging communications for both sales and rentals of the real estate projects.These projects are located on the Opal Coast and Côte d'Azur.
You participate in the creation of magazines, brochures and leaflets, newsletters, mailings, campaign texts, online ads (Facebook & Google), blog posts and social media posts.
You take care of the entire section of the Dutch communication.
You contribute to the positioning of the brand within the Flemish market.
You are responsible for the contact with our Flemish partners (press and media agencies, influencers or affiliates).

Your Personal skills and qualifications
You have a first experience in a marketing or communication function (within the real estate and/or tourism sector is a surplus).
You have a good level of French to ease the harmonization and internal working flow.
You have a fluent and commercial pen.
Your interests within marketing lie mainly within branding, copy, content and social media.
You are creative and spontaneously come up with new ideas.
You pull off a Wordpress site, as well as Facebook and Google ads.
You have a basic knowledge of SEO-copywriting, so you can write a blogpost for example with a view to good SEO.

What they offer
Great career opportunities within not only marketing, but also sales or operation of our tourist residences.
To join a motivated 5-person marketing team.
The creative freedom and responsibility to Dutch part.
You will be working in France (close to Kortrijk), ten minutes from the Belgian border.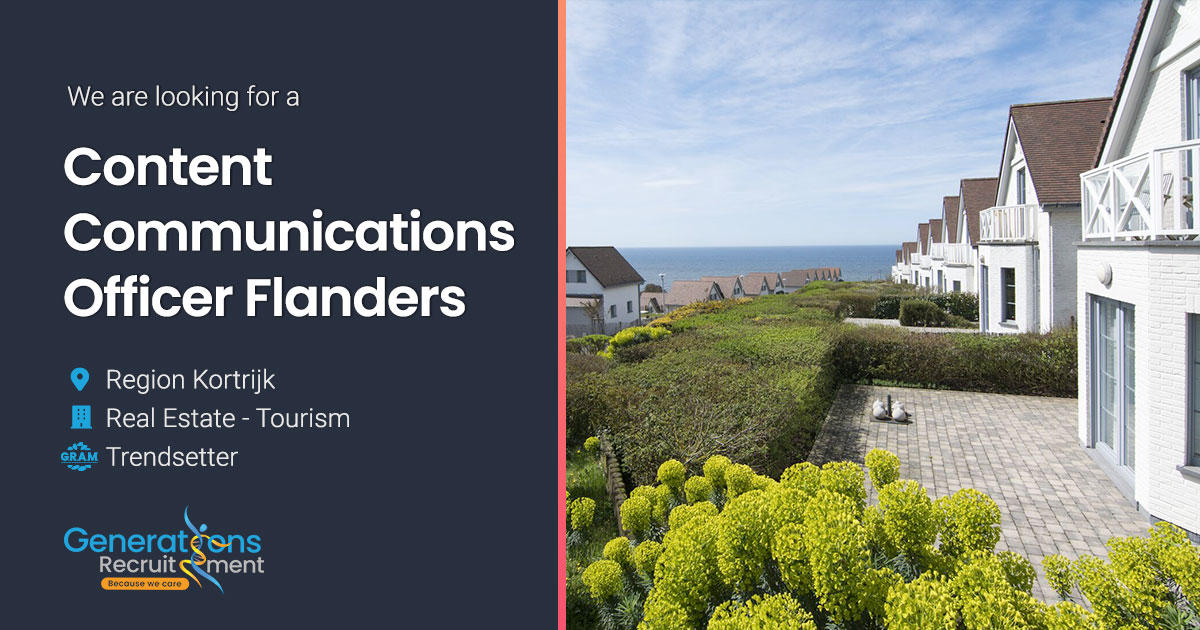 Sophie Deprez
Recruitment Consultant